SECTOR : AVIATION
PROJECT : DUBAI AIRPORTS MODULAR DATA CENTRE COMPLEX (MDCC)
SERVICE : CRITICAL SYSTEMS ENGINEERING
Dubai Airports have completed the world's first Tier III certified Modular Data Centre Complex (MDCC)* at Dubai International (DXB). The complex is equipped with next generation technologies to ensure the highest levels of availability, maintainability, resilience and seamless business continuity to support DXB's growing and complex operations.
Dubai Airports worked closely with the supply chain to design and build the Tier 3 pre-fabricated data centre incorporating smart operations and intelligent management platforms to host critical IT systems. The new facility will provide a stable and reliable environment for Dubai Airports to host its private cloud.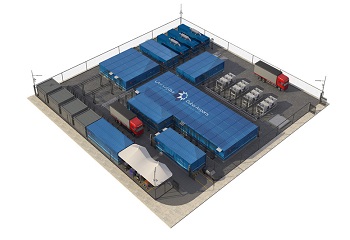 Core Emirates scope was to review the design, procurement process and programme management for the installation. We then coordinated and witnessed all the commissioning process through to successful handover with the relevant authorities, including first time approval of UPTIME certification. The project was completed on time, inclusive of all documentation.
The following statement was received by a senior employee from Dubai Airports:
"Core Emirates played a pivotal role in the successful delivery of Dubai Airports Modular Data Centre Complex (MDCC), collaborating with all stakeholders to achieve the Take Over Certificate (TOC) 396 days from contract signature, to a fully operational facility.

Cores' technical ability and professional delivery ensured that all preparation and execution of critical systems engineering of this Tier III facility obtained third party "UPTIME" certification ahead of schedule.

I look forward to working with Lee and his team again in the near future"